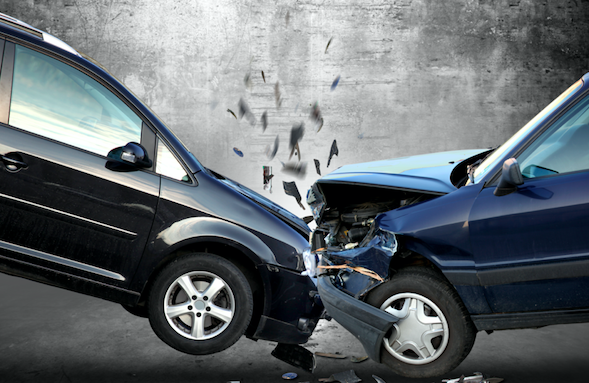 A collision can happen in a matter of seconds but the steps you take after will greatly affect how quickly you can put the stress of the collision behind you. Continue reading to learn what to do in case of an accident so that you can file a claim with your insurance company to cover the necessary repairs for your car.
What to Do After a Collision
Safety First
Your first priority after a collision is to assess and maintain the safety of you, your passengers, and the other parties involved. Check for injuries and call an ambulance immediately even if the injuries appear minor. If possible, move your car to the shoulder of the road to remove further risk of collision. Place road flares or reflectors around the scene to make other drivers aware of the situation.
Call the Authorities
We recommend that you call the police and report the accident as soon as possible, even if the accident is minor. Doing so will ensure you have an official report to give your insurance company but more importantly, the officer will help to secure the scene and act as an objective mediator between you and the other drivers involved.
Collect Information for an an Accident Report
The state of Pennsylvania requires certain information to be included in the Drivers Accident Report. Be sure to include personal information including the name, address, phone number license number, and insurance policy number of the driver. Next, collect the names and contact information of any passengers or pedestrians involved. 
You will also be required to collect vehicle information including the make, model, and year of any vehicles involved in the accident. Use your phone to snap pictures of the license plates, VIN numbers, and any damages you see on all of the vehicles. If a police officer is called to the scene, he will likely oversee the completion of this report.
Schedule an Appointment With a Body Shop
The sooner you are able to schedule an appointment with a collision center the better. Scratches in your paint will quickly lead to rust, and further damage to your car can occur if you put off your appointment. As soon as your insurance company has the information and pictures they need to process your claim, call a reputable collision center who can help return your car to its original condition.
Visit W&L Collision Center in Northumberland, PA
You deserve the best service after experiencing the headache of a collision. W&L Collision Center offers highly specialised collision repair services in Northumberland, PA. Schedule an appointment today.